You've never heard of Pinnacles National Park? You know, near Hollister, California. Where's Hollister, you ask?
Answer: Hollister is right down the road from San Juan Bautista. Where's San Juan Bautista? In San Benito County, of course. Doesn't everyone know that? It's a mission town, the site of one of California's 17 Spanish missions founded "on the rim of Christianity" in the late 18th century.
Okay, I'm messin' with you. In fact, very few Californians have heard Hollister, San Juan Batista, San Benito County, or the newest jewel in America's exquisite collection of protected wonderlands, Pinnacles National Park. So, as a California insider, I'm doing my part to address this deplorable situation, not only for the sake of my fellow Californians, but for the benefit of Blue Kangaroo users everywhere.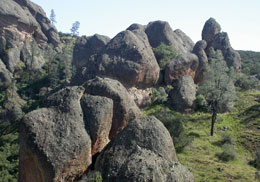 Most of us have heard of, or if lucky, visited – the celebrity parks: Yosemite, Yellowstone, Grand Canyon, Everglades, Zion, Big Bend, Great Smoky Mountains. But for every Yosemite or Yellowstone, there are a dozen less familiar national parks, all worthy contenders for your Life List: Lassen, Great Basin, North Cascades, Capitol Reef, Saguaro – and now, Pinnacles National Park.
Three hours south of San Francisco, Pinnacles joined this elite club 105 years after gaining federal protected status as a national monument under President Theodore Roosevelt in 1908. Just over two years ago, Congress passed legislation to reclassify Pinnacles as a national park, and President Obama signed the bill on January 10, 2013.
Pinnacles is small, only about 27,000 acres. Yellowstone, by comparison, has over 2,200,000 acres. There's a modest visitors center, a campground, and several picnic areas, but no cafe, coffee shop, gas station, or other commercial amenities.
What you will find is an extraordinary Dr. Seuss landscape of rocky crags and talus caves (caves formed from fallen boulders, some of them as big as a house, as shown below), enticing hiking trails, the largest bird in North America – the California condor – and in April, colorful displays wildflowers.
About that landscape. It likely originated as part of a volcano 23 million years ago – and about 195 miles southeast of its current location, near present-day Lancaster, California. The San Andreas Fault split the volcano into unequal parts and the western portion hitched a ride northward on the Pacific Plate while the eastern side stayed put on the North American Plate. This action continues, sometimes in sudden lurches – we call them earthquakes, including the San Francisco Earthquake of 1906. Over time, wind and water shaped the fantastical rock formations we see today. All of this, the northward movement and rock-shaping, is still going on, but slowly, at least as measured by human time.
Now, about those birds. When I was growing up, California condors, a kind of vulture with a wingspan measuring up to 9 1/2 feet, were almost extinct. Habitat loss, egg poaching, and DDT and lead poisoning had reduced their range to a small preserve north of Los Angeles. In 1987, when there were only 22 California condors left in the wild, the U.S. Fish and Wildlife Service began a captive breeding program in an effort to save the species. Though these magnificent birds remain rare and therefore endangered, the situation has improved dramatically. In October, 2014, there were 425 California condors in captivity or living near three release sites in Arizona, Baja California, and Pinnacles National Park.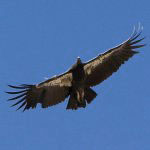 I have to confess that I've never seen a California condor because these grand birds are most active in the early morning and early evening and I've never been in Pinnacles at those times. It's a three-hour drive from San Francisco, where I live, so I'm lucky to hit the trail by 10 a.m.

If you like to hike, the trails are a reason to go. The best ones go up, around, and even through the towering pinnacles. In places, a narrow path and steps hug the sides of vertical rock. There are guard rails but these dramatic routes are not advised for young children or people afraid of heights.
Trails also lead through the talus caves, which, unlike conventional caves, aren't underground passages. Instead, they're a series of openings formed by loosened boulders, or talus, that have tumbled from the heights. Some caves have creeks and small falls within, though these tend to dry up with the coming of summer.
And the reason to visit Pinnacles National Park in April is for the wildflowers. April is High Spring in Pinnacles and walking through the natural rock gardens is intoxicating.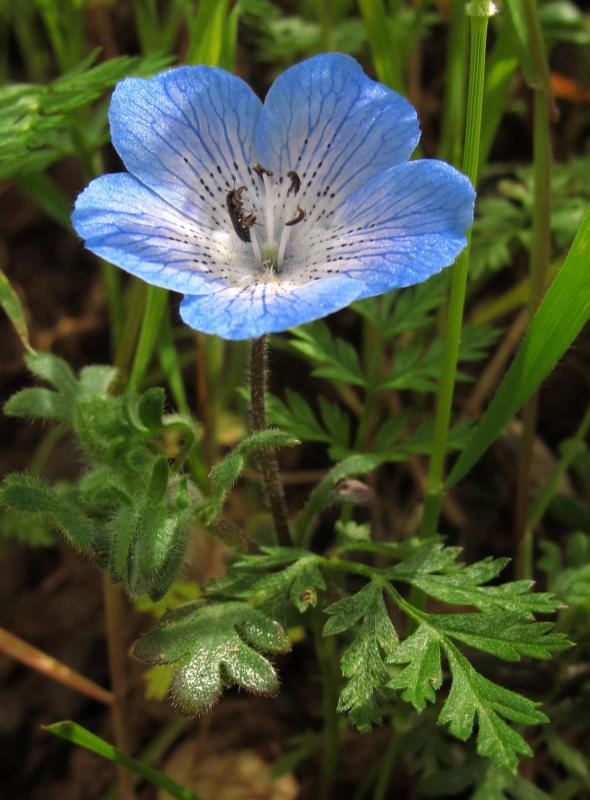 Except for a campground, there are no accommodations at Pinnacles National Park itself. The nearest towns with inns and motels are Hollister, King City, and Salinas, also home of the John Steinbeck Center. Salinas was the hometown of John Steinbeck, the Nobel Prize-winning author of The Grapes of Wrath, Of Mice and Men, and other pinnacles of 20th-century American literature.
Farther west on the coast, Santa Cruz and Monterey are popular destinations, with plenty to see and do for the whole family, including the popular Monterey Bay Aquarium. Continue south of Santa Cruz on Highway 1 and you'll find Carmel-by-the-Sea, the charming little town most famous for its former mayor, Clint Eastwood, and as the northern gateway to California's famed Big Sur.
If you think Pinnacles and the surrounding area are worthy of a visit in April – or any time – Blue Kangaroo can help. Airline partners that fly into the three nearest international airports – Mineta San Jose International Airport, San Francisco International Airport, or Oakland International Airport include American, Delta, Southwest, United, and Virgin America.
Pinnacles is fairly remote, so you'll need a car. And since you're in the neighborhood, you really should see more of the central coast region while you're there. Our car rental partners can help: Avis, Alamo, Budget, Hertz, and National. You can see all of our current car rental offers here.
Blue Kangaroo also works with the main online travel discounters, including CheapOstay, Expedia, Orbitz, and others.
April is the sweetest month for Pinnacles. Literally. Wildflowers perfume the air. Summers can be hot and dry – though cool closer to the coast. Whenever you go America's newest national park, like all of our national parks, is definitely worth a pilgrimage.