Coming in at a close second to I Love Lucy, The Golden Girls is my second all-time favorite show. From Dorothy's sarcasm and Sophia's wit, to Rose's charming naiveté and Blanche's sultriness, it's almost impossible not to fall in love with the four ladies and the contrasting character traits they possess that make the show so golden.  If you have a Golden Girls fan in your life, or if you're looking to build your own golden collection, look no further than this blog post. Also, I promise that's the last time I'll use the word "golden".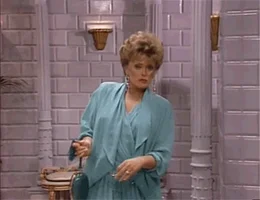 Nothing says thank you for being a friend quite like gifting the entire series on DVD. The special commentary that's included makes this gift particularly special:
These fabulous mugs make morning routines fairly more enjoyable:
Any fan like me loves a good trivia book, and The Golden Girls is a show with an abundance of interesting tidbits:
I want to credit the creator of Funko Pop! for getting my normally Eeyore-esque self to use words like "cutesy", but I can't help using words like that when looking at these adorable figures:
Coloring books for adults are wonderful stress-relief outlets:
For fans of Blanche:
For fans of Sophia:
For fans of Dorothy:
For fans of Rose:
This is a quintessential gift for the art aficionado. I love the vibrant colors:
Complete this puzzle in the comfort of your living room with some cheesecake and a Golden Girls DVD in the background. Sounds like a splendid afternoon to me!:
No squad – and I repeat, no squad – will ever be as cool as these hilarious ladies:
Last, but certainly not least, you can't have a Golden Girls blog post without including cheesecake:
Need more of a Golden Girls shopping fix? Picture it: Blue Kangaroo, a Golden Girls Collection.